If you haven't tried a canal holiday before please be assured that you will find a warm welcome with us.
We will take time to introduce you to the boats, advise on routes, mooring places and pubs(!). You will be accompanied as you set off to ensure that you are comfortable with handling the boat, and then met at the first lock and introduced to the mysteries of locking (it really isn't difficult!). We want you to enjoy your holiday with us, and you will be more likely to do that if you are confident about coping on the canal.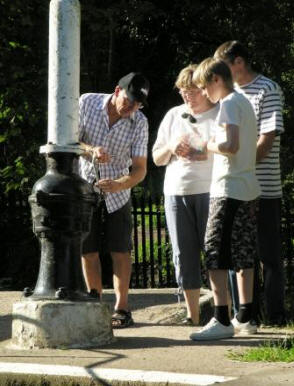 We are always pleased to show prospective customers through the boats – we feel that they sell themselves! If you would like to come and see the boat that you are considering booking please give us a ring before you visit so that we can advise when it might be available. During the season you may need to visit on Friday or Saturday, late morning.
Planning the trip is all part of the fun. On this web site we give some ideas of recommended routes. Our brochure has this information. In our shop we stock maps and guides to help you to plan your journey, and we are happy to supply these by mail order if required. If you are new to the canals, plan an easy route, ensuring that you leave plenty of time, so that you can relax and enjoy 4 miles per hour, rather than worrying about meeting deadlines!
If you want some information on how to navigate the boat, and operation of the locks please either download a pdf copy of "The Boaters Guide", or have a look at the video of the guide on the Waterscape website: http://www.waterscape.com/watch
If you have any other queries please contact us, either by phone 01926 492968 or by email, cheryl@kateboats.co.uk